Portable Water Analyzer
WA-2/WA-2M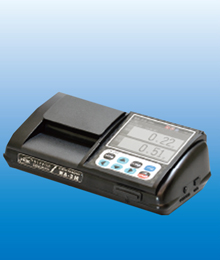 WA-2M is a portable water analyzer the enables to measure 4items of Turbidity, Color, Residual Chlorine and Transparency.
WA-2M and WA-2 can measure Turbidity and Color simultaneously.
It is very simple operation that you set the sample water into an exclusive cell, and only pushes the button.
These models are light weight, compact and portable, so you can use it anywhere indoors or outdoors.
Features

These allow measurements of turbidity 〔0 to 20 or 0 to 500 degree〕 and color 〔0 to 30 or 0 to 500 degree〕.

Highly reliable measurement is available as pre shipment calibration has been done using turbidity and color standard solutions.

These are compact, light, weight and easy to carry according to USB power or AA dry battery.

Loads SD card connector in the front of instrument. The measurement data can be saved.